This is a Beauty.
Spring is almost here...almost...the recent days tease us with sun and the ground is teeming with little buds wanting to unfurl.
Waking from a long winter with the promise of sunny days, this pendant is a reminder that ocean shores and mountain retreats surely await us.
The chain hangs 21"
The stone is Picture Jasper (as you can see it's a fantastic scene)
I have smithed a gorgeous round fine and sterling silver bezel and added an extension so that it can be worn short or long.
My makers mark and .925 are stamped on the back of the pendant.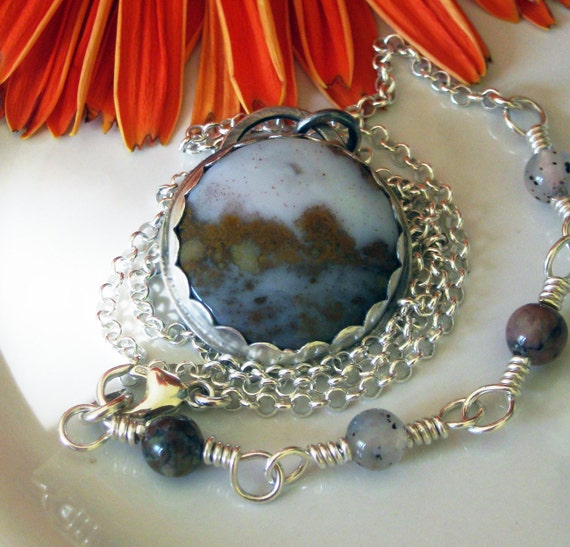 you can see more photos of this by clicking the link above.
On a personal note, I woke up exhausted. I must have had some intense dreams. Hubby said I kicked him in the rear while asleep (sorry DH)...I haven't overdone anything, so the tiredness must be from dreams.
Yesterday Ginger and I enjoyed 2 lovely walks. She loves to be outside in this weather. It's going to be hard to train her not to bark, she's currently over by the back window enthralled by squirrels, kids and birdies.
I started Phase 2 of my South Beach diet, just in time, I was craving carbs, good carbs, so much. I enjoyed oatmeal with a sprinkle of cinnamon and walnuts for breakfast. The weight is coming off at a good pace, not too fast. Loving the meals I'm preparing, though last night though I couldn't stand the idea of any more...chicken...
Will have all of the details about the Museum Show very shortly.